Just seeing the words home-brewed on a food product makes one automatically assume the product is something that is probably healthy. If you are one who seeks to eat wisely, this might give a sense of comfort, thinking that by partaking you will be further down the road to greater health.
Truth in labeling and truth about really great health can be miles apart. When it comes to becoming or staying well, you need to know the difference.
How many times have you had an illness that no matter what natural products you ingested, applied, sprayed, etc., you were still sick days later? Well no more, as I have a remedy for you!
Brewing your own remedy might just be the easiest, cheapest and healthiest way to take care of your family during flu and virus season, without any side effects! (And with a bonus of not having to stand in a drug store line with dozens of other sick people, coughing!)
When the flu infects your body, it usually hits fast. One of the major complications of that infection is inflammation. Sinus cavities, esophagus, lungs and all your airways shrink. Breathing becomes a chore. Your heart beats under higher pressure. And your liver struggles to empty your body of the toxins that have invaded it.
Would you like to naturally and permanently rid your body of these problems? Live the John Rankin's Way where prevention is the cure! Being well is a much nicer and easier way of living than being sick and having to fight off infections and diseases.
I know this is true for myself. I haven't been sick in many, many years, not since discovering the way to excellent, consistently great health and faithfully living by these truths. So do what I do, and skip right past all the usual misery of the flu season!
I have many healthy recipes in my wellness arsenal. For the flu/virus infections, I invite you to try something that works great for my family and friends, and that should help you too.
My first tip is to stay away from other sick people. Then drink lots of this home-brewed anti-inflammation tea. Lastly, get ready to feel much better. This is a simple (but proven) tasty medicinal drink to help get you up and going when you're down with the flu.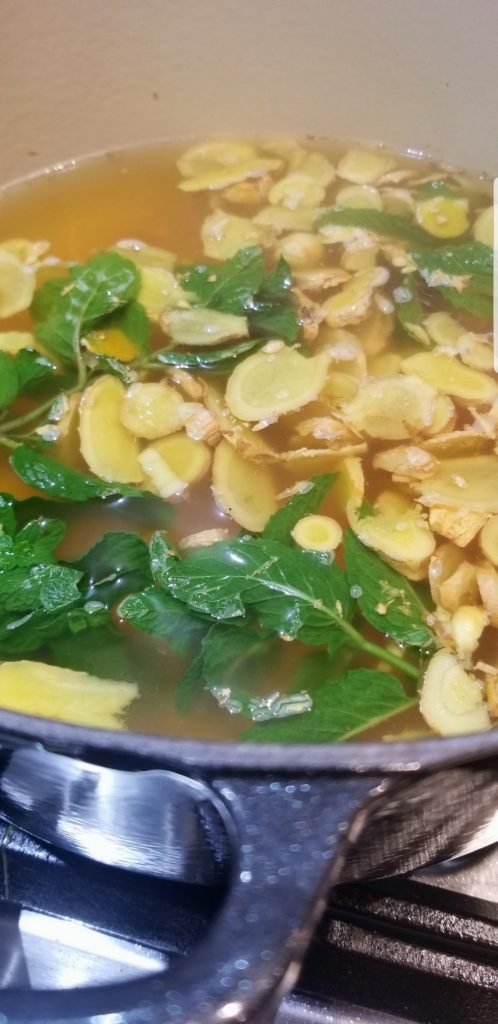 JOHN'S VIRUS/FLU-FIGHTING TEA RECIPE
Place a gallon of spring water in a large pot. Add ½ # ginger root sliced thin.
Add ½ # turmeric root sliced thin.
Add cardamom seeds from 10-12 cardamom pods, crushed. (or use the whole crushed pod too, since we will strain this when done.) Add 5-cinnamon sticks.
Add the juice of 2 lemons.
Add a small handful of fresh mint leaves. My favorite is spearmint.
Place the lid on the pot and cook this brew on low heat for up to 2 hours, stirring every 15-20 minutes.
You will need 3 or 4 quart jars. Add 6-8 tablespoons (about ½ cup) of local honey (know the beekeeper) to each of your jars.
Pour your fresh pot full of wonderful tasting home-brewed elixir through a strainer into each jar while still warm.
Cap and shake until honey is dissolved. Drink warm or refrigerate.
Drink at least a cup full in the morning and again in the evening. Drinking it all day long is not a problem if needed.
I have 4 ½ decades of research and a life experience that has allowed me to be extremely healthy and to help others find and stay on the right path to excellent health as well. I sincerely care about you and the health of your family.
I hope this message will help you and your family to use a more holistic approach to health. Start right now, and never stop living as close as possible to the natural gifts of our beautiful earth.
You can find more of my healthy recipes along with the exciting story of my journey…all available now in my new book "Healed by Farm'' @johnrankinsway.com. Be well!
https://rankinsway.com/wp-content/uploads/2020/12/Screenshot_20201207-212618_Photos.jpg
2220
1080
tcouty
https://rankinsway.com/wp-content/uploads/2020/04/rankin-logo-2.png
tcouty
2020-12-23 21:23:40
2021-03-10 10:16:45
Home-brewed Health